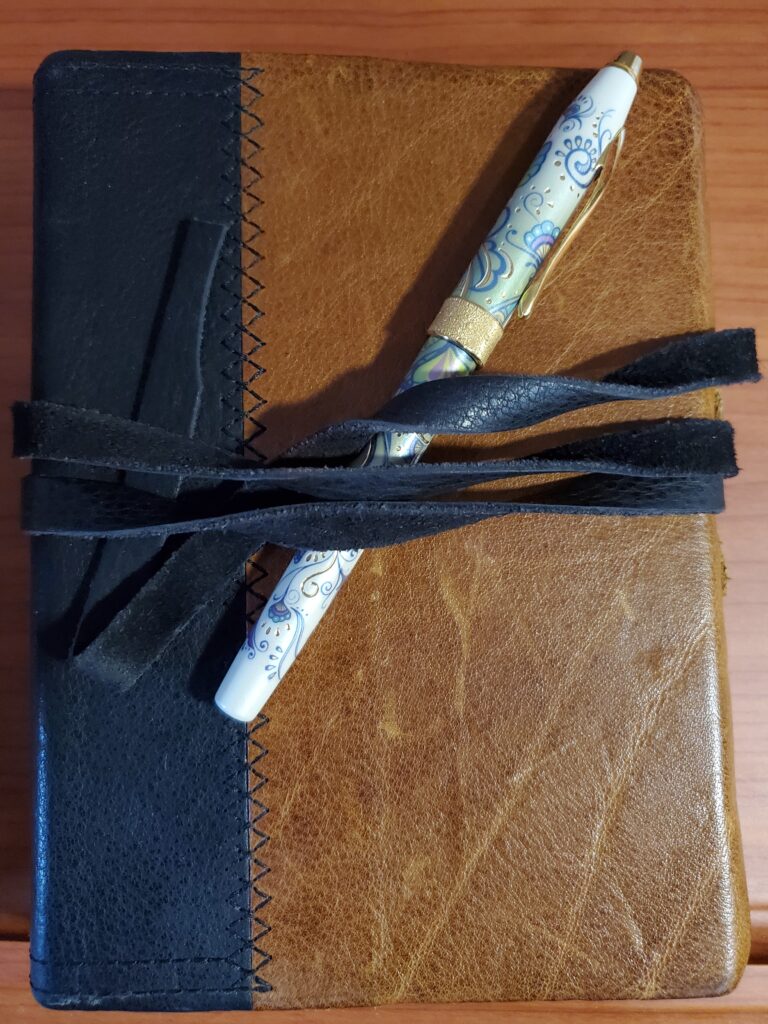 I am a paper product fiend.
As I prep and pack for my trip to the Association of Writers and Writing Programs (AWP) conference today, I picked up this blank-page book, dusty at the back of my desk. I love the feel and heft of it; love pulling out a sweet pen for writing. It's a book I carry when traveling so I can jot down research notes, memories, tidbits about trips, and observations about conference sessions. As I opened this beautifully bound, leather book, I saw my notes from 2019, where this book begins and ends. A postcard from the Metcalfe Fine Art Museum falls from the pages into my lap, and I am immediately transported back to our Oklahoma visit . . . traipsing the grounds where Augusta Metcalfe–the subject of my biographical writing–also traipsed as she fetched produce from the garden, horses from the barn, paints and canvas from her art supplies stash. Following pages take me to New Zealand, with my notes from the Hocken Collections/Uare Taoka o Hakena on Lake Dunstan, the Clyde Dam, hydro development, and–from our vintner friends–the "catch of the yeast."
The last notes taken in my book are about writing and publishing Indigenous fiction, publisher contracts, how to grow the next generation of publishers/editors/designers/indexers, and commentary from a fabulous session called, "This is Not Your Mom's University Press." The occasion? The 2019 AWP conference. How fitting that–as I dust off the cover and cast off the two-year stay-at-home protocols–my book's next adventure will be at the 2022 AWP!